sessions over twenty months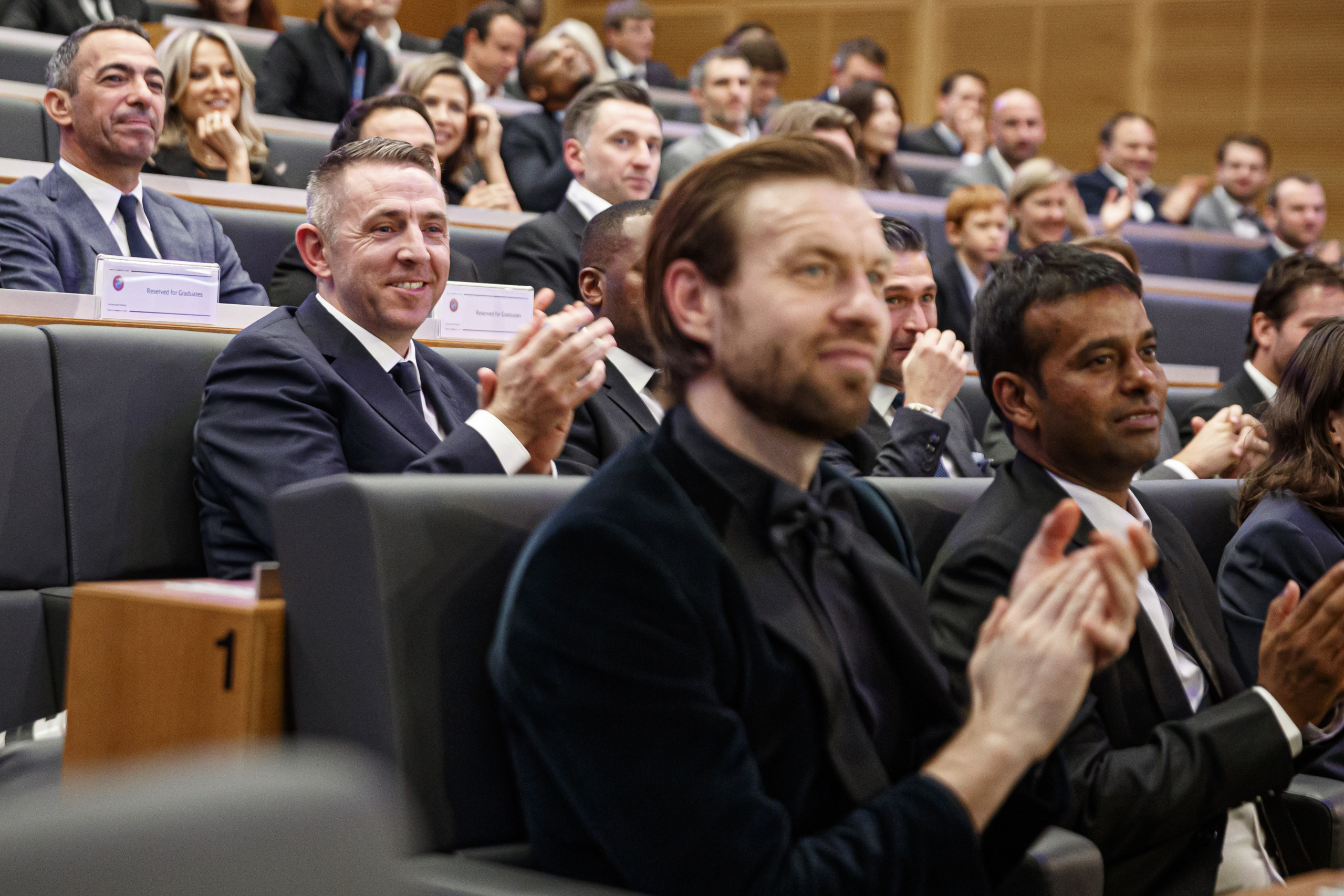 Former internationals who have played at the highest level have a lot to offer in the administration and management of football.
The UEFA MIP is a unique programme that has been tailor-made to meet the needs of players accustomed to winning trophies on the field, giving them a toolkit with which to lay the foundations for success off the field.
The UEFA MIP ensures that footballers hear the half-time rather than the final whistle at the end of their professional playing days, giving them the tools for match-winning performances in football administration and management as part of a second career.
2023/2025

Who can apply?
If you are an international player or an ex-professional who already holds a position of seniority in a sport organisation; you have a degree level or equivalent and relevant experience; and a command of English necessary to study at the master's level then, this programme is for you!
2023/2025

Applications deadline
31 May 2023
The applications are ongoing. You must preregister online and then send an application form, together with other documents. 
On-line interviews and final selection during summer 2023.
2023/2025

Course fees
The UEFA MIP costs €27,000 (including all course materials and lunches).
UEFA encourages applications from men and women from all leagues and countries in Europe, and can provide scholarships where necessary.
From top player to top leader
Aleksander Čeferin
UEFA President
New challenges can be daunting. After so many years excelling in one profession, it is not easy to turn the page and try something else. However, turning the page does not mean turning your back on football. It is clear to me that the skills you learned during your illustrious careers can be honed and tuned in order for you to work in the game you love.
That is where the UEFA Executive Master for International Players (UEFA MIP) comes in. Along with our academic and football partners, we have created a programme that aims to give former elite players the necessary resources to stay in the sport they love after they have decided to hang up their boots.
The core element of the UEFA MIP is the belief that football always comes first. During my years in football, I have seen many instances where the experience acquired by top players at the peaks of their club and international football careers have made valuable contributions to the development of our beautiful game. I would like this trend to continue and even grow stronger.
So what exactly can you expect from the programme? It aims to provide you with the necessary skills to advance yourselves as decision-makers and leaders within the framework of football administration and management. The interactive and dynamic course sets out to help you achieve your professional goals and empower you to make positive contributions to the shaping of football's future.
UEFA knows that your experience and your expertise cannot go to waste and that is why we encourage you to play an influential role in the world of football. As you take this step towards a new chapter in your life, we will be there to support you and make sure that together we ensure the game keeps the core values that have made it the most popular sport in the world.